In 2021, we made our first formal investment to contribute to the global effort to reduce the effects of carbon emissions on the environment.  While we have a small direct carbon footprint of approximately 100 tons CO2, we are keenly aware that our revenues are derived from mining activities that often rely on CO2 emitting fuel sources.
We have proudly entered into a strategic partnership with Carbon Streaming Corporation ("CSC"), a newly formed entity that aims to finance global decarbonization and biodiversity initiatives. Founded by past successful streaming executives and recognized climate change experts, CSC's business model is to evaluate and fund carbon offset and/or decarbonization ventures. In return, CSC (and Osisko should we participate directly) will receive streams of future carbon credits that are generated by these investments.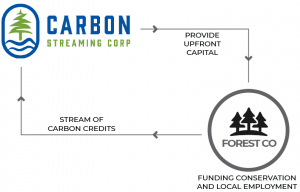 This innovative partnership allows us to leverage our streaming expertise with ESG-friendly decarbonization initiatives globally. This ground floor investment should also afford synergies and opportunities to collaborate with our existing, and future, traditional mining partners to offset their carbon footprint, and by extension our own indirect impact.