| | |
| --- | --- |
| We are committed to giving back to the communities where we work and operate.  We provided approximately $270,000 in corporate donations in 2020 to promote education, health, diversity and local communities, and approximately $200,000 in 2021. | |
OSISKO IS COMMITTED TO CONTRIBUTING WHERE IT WORKS AND OPERATES
We are committed to contributing and promoting:

---
CANADIAN MINERAL INDUSTRY EDUCATION FOUNDATION ("CMIEF")
The CMIEF is proud to support the Canadian mineral industry since 1964. Osisko, a leading donor of the foundation, has assumed the responsibility of managing its activities since 2018. The foundation is the largest provider of university scholarships to those entering the mining industry in Canada and is supported by several Canadian mining companies committed to ensuring that students are aware of, and will be attracted to, the possibilities for rewarding careers in the mining sector.
In 2021, the CMIEF provided scholarships to 171 students all across the country. In 2021, the gender split of recipients was ~70% male and 30% female, comprising a slightly higher proportion of females compared to the previous year. We are pleased to be promoting the mining industry to a new generation and specifically increasing the amount of women entering the mining sector.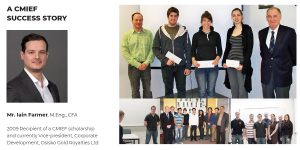 ---
EVERY STUDENT, EVERY DAY PROGRAM- VICTORIA GOLD CORPORATION
In 2019, Osisko committed to contributing $15,000 per year for five years to the Eagle Gold Mine Every Student, Every Day program.  This program targets reducing student absenteeism throughout the Yukon and has been operating since 2012.
---
FONDS RESTOR-ACTION NUNAVIK
The Fonds Restor-Action Nunavik ("FRAN") consists of 30 mineral exploration companies operating throughout Québec and whose common goal is the cleaning and rehabilitation of abandoned mining sites in partnership with governments, Inuit and Firsts Nations. Osisko has been involved in the FRAN since its creation. The new generation of mining and exploration companies want to demonstrate that not only do they have more stringent environmental management practices and social responsibility but that they are also capable of taking concrete steps to carry out the rehabilitation of priority sites and ensure compliance with environmental standards established for ongoing and future activities.
Fore more information:
Reports
2020
Rehabilitation of Abandoned Mineral Exploration Sites in Nunavik. 2019-2020 Activity Report
2019
Rehabilitation of Abandoned Mineral Exploration Sites in Nunavik. 2018-2019 Activity Report
2018
Rehabilitation of Abandoned Mineral Exploration Sites in Nunavik. 2017-2018 Activity Report
2017
Rehabilitation of Abandoned Mineral Exploration Sites in Nunavik. 2016-2017 Activity Report
2016
Rehabilitation of Abandoned Mineral Exploration Sites in Nunavik. 2015-2016 Activity Report
2015
Rehabilitation of Abandoned Mineral Exploration Sites in Nunavik. 2014-2015 Activity Report
2014
Nunavik abandoned Mineral Exploration Sites Rehabilitation Project. 2013-2014 Activity Report
2013
Abandoned Mineral Exploration Sites Rehabilitation Project. 2012-2013 Activity Report
2012
Abandoned Mineral Exploration Sites in Nunavik Rehabilitation Project. 2005-2012 Summary Report and Update of the General Response Plan
General Response Plan 2012-2017 for the rehabilitation of abandoned mineral exploration sites in Nunavik
2010
Summary Report on the Rehabilitation Work at the 18 ''Major'' Abandoned Mineral Exploration Sites in Nunavik Carried Out During the Summer of 2010 and Update of the General Response Plan
2009
Summary Report on the Rehabilitation Work at the 18 ''Major'' Abandoned Mineral Exploration Sites in Nunavik Carried Out During the Summer of 2009 and Update of the General Response Plan
2008
General Response Plan 2008-2012 for the rehabilitation of 18 "major" mineral exploration sites in Nunavik
Summary Report on Rehabilitation Work at the 18 ''Major'' Abandoned Mineral Exploration Sites in Nunavik Carried Out in the Summer of 2008 and Update of the General Response Plan
2007
Update on the Information contained in the Assessment and Prioritization of Abandoned Mining Exploration Sites in Nunavik: Final Report on a Two-Year Project (2001–2002) and Report on the Clean-up Activities Carried Out in the Summer of 2007
Assessment and remediation of abandoned mining exploration sites in Nunavik/Progress Report for year 2006-2007 of the project
2006
Assessment and remediation of abandonned mining exploration sites in Nunavik/Progress Report for year 2005-2006 of the project
2005
Assessment and remediation of abandoned mining exploration sites in Nunavik/Progress Report
2003
Assessment and prioritization of abandoned mining exploration sites in Nunavik/Final report on a two-year project (2001-2002)