PROJECT OVERVIEW

Barkerville Gold Mines Ltd. (BGM) is proposing to construct and operate the Cariboo Gold Project, an underground gold mine and associated infrastructure, in the historic Cariboo Mining District east and southeast of the City of Quesnel. BGM is a Canadian company owned by Osisko Gold Royalties Ltd. The company is based in Wells, BC and headquartered in Toronto, Ontario.

WHAT'S NEW?

_____________________________

BGM NEWSLETTER

BGM issues first quarterly newsletter

YOUR FEEDBACK IS IMPORTANT.
The Cariboo Gold Project includes:
an underground mine and associated facilities in and near Wells
waste rock storage at Bonanza Ledge mine
a new transmission line from Barlow Substation to the mine site along a route north of Highway 26
use of existing roads to the mine site, Bonanza Ledge mine and QR Mill
processing facilities and filtered stack tailing storage at QR Mill
Once operational, the mine will have a life of 16 years and will employ an estimated 460 employees plus contractors and consultants. The Project construction workforce will peak at approximately 250 workers in Wells.
The locations of the Project components are shown in the figure below and additional detail on the Project is available in the Project Description and Supplemental Information provided after the figure.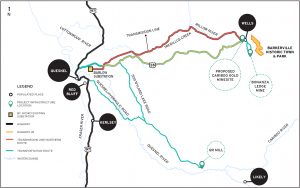 Project Components
---
INFORMATION FACTSHEETS
Environmental Assessment
The Project is subject to review under the BC Environmental Assessment Act, 2018 and the review is being led by the British Columbia Environmental Assessment Office (EAO). The Project entered the Early Engagement Phase in May 2020 and has an accepted Project Description and Section 13 order.
The EAO hosted a Public Engagement and Comment Period during the Early Engagement Phase and prepared a Summary of Engagement that summarizes public comments, outlines Indigenous nations' interests in the project area, and identifies key issues and concerns identified by technical advisors based on their review of the Initial Project Description and supplemental information submitted by BGM. The information in this report helps inform the development of a Detailed Project Description. BGM plans to submit a Detailed Project Description in Fall 2020.
The Project is not identified as a reviewable project under the Federal Impact Assessment Act.